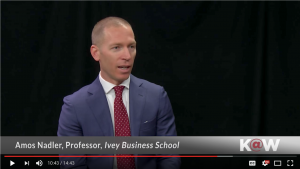 Dr. Amos Nadler is the Chief Economist of Bayesian Labs in Toronto, Canada where he conducts and oversees research on economic disruption, financial innovation, digital assets, market forces, equilibrium prices, and the policy effects.
Dr. Nadler was an Assistant Professor of finance at Ivey Business School at Western University and Visiting Professor of economics at University of Toronto. His fields of interest are behavioral finance, behavioral economics, experimental economics, and neuroeconomics.
He finished his PhD in 2013 in behavioral finance and neuroeconomics at Claremont Graduate University, where he was awarded the Kauffman Neuroeconomics Fellowship. His dissertation is on the effects of androgens on financial decision-making in both market and non-market environments. One of the resulting works on the effects of testosterone on asset trading in males is available here.
Amos was a Senior Researcher at Prof. Paul Zak's Center for Neuroeconomics Studies and taught behavioral economics, behavioral finance, and decision and administration at Pitzer College.
Amos attended University of Oregon in Eugene, graduating cum laude. He won Best Honors Paper and earned Departmental Honors in economics. At the University of Oregon, he worked closely with Bill Harbaugh and Bruce Blonigen.
You can follow him on Twitter and for not-so-up-to-date content, check out Amos's  graduate school blog, The Considerate Economist. 
Recent media